Carrot recipes
Here are 3 easy to make carrot recipes to show the versatility and ease of cooking with carrots. We make beautiful healthier carrot, chocolate and banana muffins, carrot smoked "salmon" which might sound crazy but it really does taste amazing and lastly we make a carrot pesto which is a beautiful way to use carrots.
Prep time : 10 mins | Cook time : 45 mins | Total time 55 mins Makes: 10 Servings | Difficulty: Medium
Carrots tend to be hemmed into being seen as a side veg or a base ingredient for a mirepoix or purely a vegetable for soup but seldom as the star of the show. In these carrot recipes we really want to show you have versatile carrots are. Because carrots are the second sweetest of all veg they work in both sweet recipes and also work wonderfully in savoury dishes. Due to their sugar content when roasted carrots tend to caramelise really well which adds both sweetness and also some acidity but either way more flavour to any dish.

In these carrot recipes we wanted to make one sweet recipe, one savoury recipe and one recipe that rides the line between both. The carrot muffins are super easy to make and because we use banana with carrot as the main sweetener they are lower in refined sugar and also higher in fibre than traditional muffins. We add some walnuts to bring in more diversity. The chocolate is to add an indulgent factor to draw people in enjoy more carrots.
The carrot smoked salmon to most people will seem far fetched but trust us it really does work. By roasting the carrot whole it kind of steams itself inside making it soft, sweet and open to infusing. The marinade is made up of a nori sheet or kelp powder which are both seaweed ripped up finely to bring that note of the sea, mixed with smoked paprika to give that smoked note, along with tamari or soy sauce to bring the umami hit. Grow up at christmas mom used to always serve smoked salmon on brown soda read as a seasonal appetiser. For the last few years mom was happy serving these smoked carrots instead and they genuinely taste great. The benefit of service these instead of salmon is that there is no dietary cholesterol in the carrots and they are also higher in fibre as salmon has no fibre.
Lastly we make a carrot pesto which when blended lightly looks almost like an Irish flag with the green, white and orange colours! The sweetness of the carrots really helps elevate the base flavours of the garlic and olive oil. This is a lovely way to use carrots to make a delicious pesto!
Other Carrot recipes that you will love
Some serving suggestions for these carrot recipes
Carrot, chocolate and banana muffins
---
These work delicious! The first time we made these we took them to the beach to share and everyone loved them – they're a great way to get some veg and banana into kids or adults!
---
Serves
12
Watch Video
100

g

choc chips or chocolate chopped into chips

200

g

self raising flour

120

ml

sunflower oil or vegetable oil

150

g

liquid sweetener such as maple syrup

agave syrup, brown rice syrup

2

tbsp

ground flax seeds

6

tbsp

water

50

ml

oat milk

2

ripe bananas

approx 200g

200

g

carrot

50

g

walnuts
preheat the oven to 200 degrees C

In a glass or cup mix the ground flax and water and leave to sit for 5 mins until it coagulates.

Grate the carrot.

In a blender add the peeled bananas, sunflower oil, maple syrup, soaked ground flax and blend till smooth.

If you don't have a blender mash the bananas and in a bowl mix the wet ingredients till well mixed.

Add to a large bowl along with the grated carrot and sieve in the self raising flour, mix gently till it comes together.

Roughly chop or crush the walnuts

Add 3/4 of the chocolate chips and crushed walnuts and mix well

Add muffin cases into a muffin tin – you should get 12

Divide the batter between the 12 cases and divide up the remaining choc chips on top

bake for approx 25-30 mins or until golden on top and a skewer comes out clean

leave to cool and enjoy!
Calories:
285
kcal
Carbohydrates:
33
g
Protein:
4
g
Fat:
16
g
Saturated Fat:
4
g
Polyunsaturated Fat:
8
g
Monounsaturated Fat:
4
g
Trans Fat:
1
g
Sodium:
17
mg
Potassium:
223
mg
Fiber:
2
g
Sugar:
15
g
Vitamin A:
2807
IU
Vitamin C:
3
mg
Calcium:
38
mg
Iron:
1
mg
P r i n t R e c i p e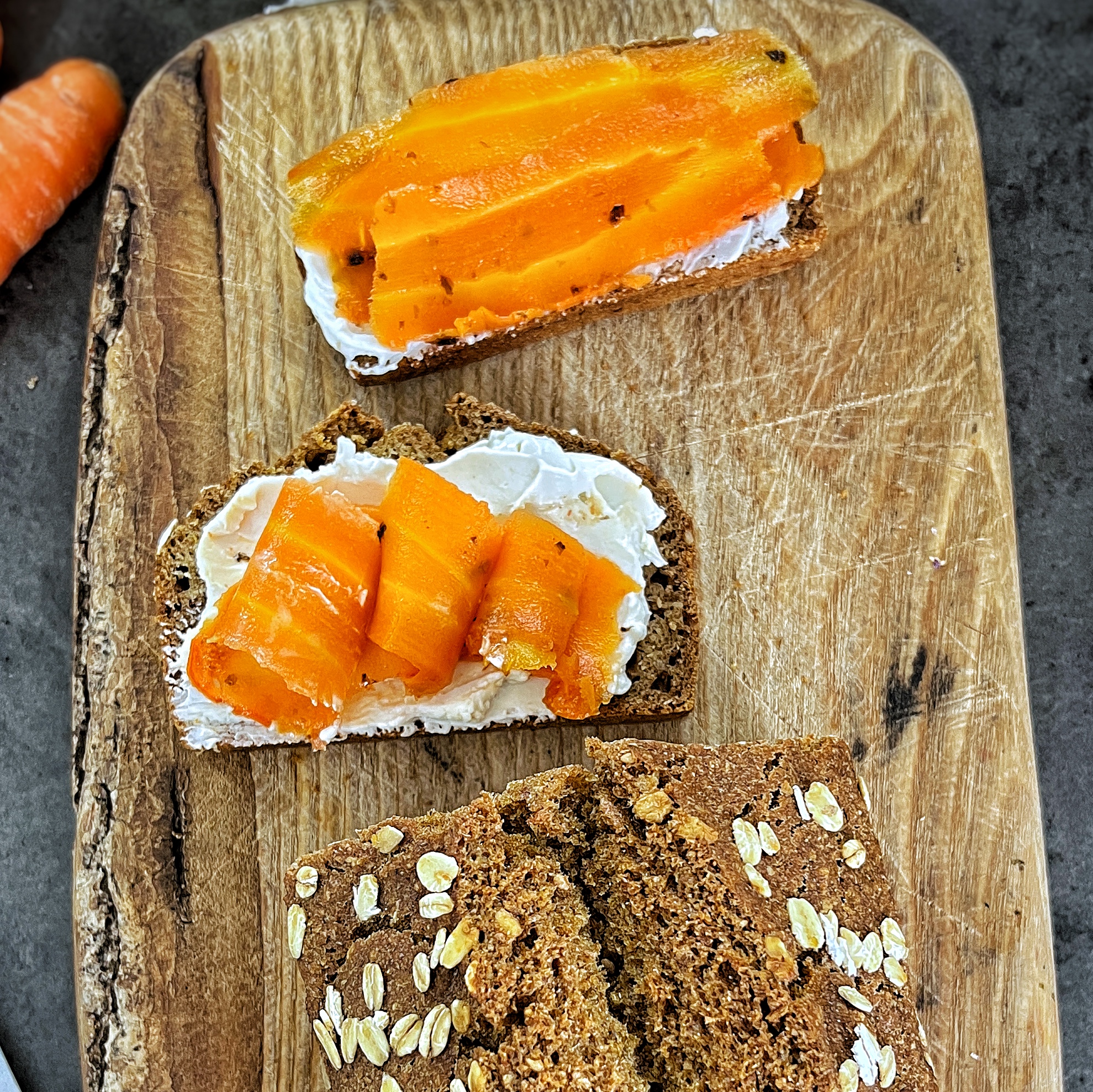 vegan smoked salmon with creamed cheese open soda bread sandwich
---
The idea of a carrot posing as a salmon might sound ridiculous but trust us this works really well and when served on soda bread with cream cheese it really does work like the original. Even our aunty who is a huge smoked salmon fan thought it was the real thing last Christmas!
---
Serves
10
Watch Video
2

carrots

2

tsp

smoked paprika

1

tsp

garlic powder

2

tbsp

tamari

200

ml

of water

1

sheet of nori /kelp powder

Vegan cream cheese

small bunch of dill & chives

optional

bagel/couple of slices of decent bread
Preheat the oven to 200C

Put the whole carrots in a baking dish and sprinkle with a generous pinch of salt. Bake in the preheated oven for 40 minutes until the carrots are soft and slightly starting to char in places.

Take carrots out, remove from the oven dish and leave to cool down.

Once cool, use a vegetable peeler to peel the carrots lengthwise into strips from top to bottom. Be careful not to rip the carrots as it looks better with long strips.

In a bowl whisk together the tamari, smoked paprika, garlic powder, water and torn up nori sheet/kelp powder and add the carrot strips. Mix the carrots gently so as not to break them, until the carrots are well covered in the marinade. Place in an airtight container and put in the fridge and leave to marinate for a minimum of 1-2 hours, but overnight is best.

Serve on a toasted bagel/bread with cashew cheese (page x), some finely chopped chives and dill. Enjoy 🙂
Calories:
14
kcal
Carbohydrates:
3
g
Protein:
1
g
Fat:
1
g
Saturated Fat:
1
g
Polyunsaturated Fat:
1
g
Monounsaturated Fat:
1
g
Sodium:
11
mg
Potassium:
71
mg
Fiber:
1
g
Sugar:
2
g
Vitamin A:
2249
IU
Vitamin C:
1
mg
Calcium:
8
mg
Iron:
1
mg
P r i n t R e c i p e
Carrot pesto
---
When you think carrot very few people think carrot pesto but this really works – carrot is a veg that really lends itself to both sweet and savoury dishes and here it helps to elevate the base garlic and olive oil favours with its sweetness but then compliments the basil and pine nuts so well. This goes great on sandwiches, in pasta, in fact it goes great on most savoury dishes!
---
Serves
5
Watch Video
130

g

pine nuts/ cashew nuts

150

g

Carrots

25

g

basil

150

ml

olive oil

gentle neutral tasting

1.5

cloves

garlic

1

tbsp

balsamic vinegar

1

tsp

salt
Preheat the oven 200 degrees C

Roughly chop the carrots and add to a baking tray with 1 tbsp of oil and pinch of salt

Bake the carrot in the oven for 25 mins until soft. Pluck the basil leaves off the stalks and set aside.

Add the baked carrots to a food processor along with the oil, garlic, vinegar, salt

Blend till smooth

Add the pine nuts and the basil leaves and pulse until cohesive but you want some texture

Goes great on top of sandwiches, in pasta and on virtually anything
Calories:
458
kcal
Carbohydrates:
7
g
Protein:
4
g
Fat:
48
g
Saturated Fat:
5
g
Polyunsaturated Fat:
12
g
Monounsaturated Fat:
27
g
Sodium:
488
mg
Potassium:
274
mg
Fiber:
2
g
Sugar:
3
g
Vitamin A:
5283
IU
Vitamin C:
3
mg
Calcium:
26
mg
Iron:
2
mg
P r i n t R e c i p e
Recent Recipes & Podcasts