The Happy Pear Podcast
Dave and Steve are on a mission to make fruit and veg sexy and this podcast is about inspiring you to be a happier, healthier version of yourself.
Each week, there will be great conversations which will give you practical takeaways to enable you to be at your best.
Brought to you by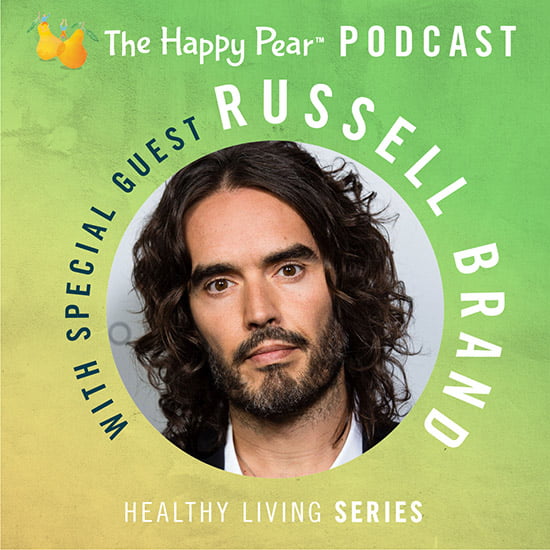 Episode 5 – Russell Brand
This week's episode is with one of our heroes, Russell Brand.
Russell is an award-winning comedian, actor, author, public thought leader, a passionate activist for mental health and drug rehabilitation and a great friend.
Russell's career thus far has been incredible, from starting out in his early days as a stand-up comedian, to then working in television, radio, film, while also subsequently becoming one strong voice in global political commentary and drug and mental health reform.
He is someone who now focuses on creating positive change in the world and he is truly one of our heroes.
"I had this thought one time when I was doing a gig in London. I felt really so scared before so sick and scared before it and I knew I couldn't drink or take drugs to help. I thought 'Oh well, if this goes really badly, I am going home on the bus. And if it goes well, I am going home, on the bus. It's not one outcome where I am carried out aloft like a World Cup winner and another one where I am thrown in the dungeon. The outcomes were not that different and I'm going to have to learn to cope with this feeling."
Russell has his own wonderful podcast, Under the Skin, available on Luminary.
Luminary is a subscription podcast service with original shows you won't find anywhere else and listeners of this podcast can get a one-month free trial of Luminary by going to luminary.link/russell
In this episode, Russell discusses:
His journey and many transformations in life to find who he is.
His first experience meeting The Happy Pear & sea swimming.
Recognising emotions and how crisis moments can be important.
The importance of listening to the quiet voice inside you.
Life principles gratitude, acceptance, serenity, doing good for others
Managing and understanding nervousness.
His creative process.
Balancing public and private life.
The value of support structures, building community and living harmoniously.
Spontaneity, planning and surrendering to the moment.
The power of meditation & prayer
We have known Russell for years and he has interviewed us on his podcast, but we never got the chance to interview him, so we are super excited about this episode!
We hope you enjoy it – we certainly found it a cracker!
Big love,
Dave & Steve
Ps. Some other notable mentions in this week's podcast were these two books if you are interested in checking them out:
The Surrender Experiment by Michael A. Singer.
The Joy Journal by Laura Brand