Berry and Apple Crumble – low FODMAP and gluten free
This dessert is honestly one of our favourites. It is hard to beat and it also happens to be low fodmap & gluten free and also gut friendly. It's easy to make, Dave's 8 year old daughter Issy can make this by herself! It takes 40 minutes to make and will serve at least 8 portions. It is one of our most popular recipes on our online Gut health revolution course which we run with Consultant gastroenterologist Dr. Alan Desmond and dietician Rosie Martin.
Takes: 40 mins | Makes: 8 Servings | Difficulty: Beginner
Here we use apples and mixed berries but you can use whatever fruit you have, it really is interchangeable, pears work well, plums, peaches – genuinely whatever you have in your fruit bowl that needs using. This dish is a great way to use up lots of ripe fruit. This was our mothers go to dessert she used to make after Sunday dinner when we were growing up so we grew up eating plenty of apple crumble! The crumble topping is really easy to make and like the fruit, the topping ingredients can be amended to what you have.
We do always have some oat flakes in our topping, some seeds, sometimes some nuts, sometimes some almond meal and then some liquid sweetener and some vegetable oil so that it golden's up once in the oven. We love to serve with some vegan vanilla ice cream as you get the lovely contrast of hot crispy fruit crumble with the cold and smooth ice cream!!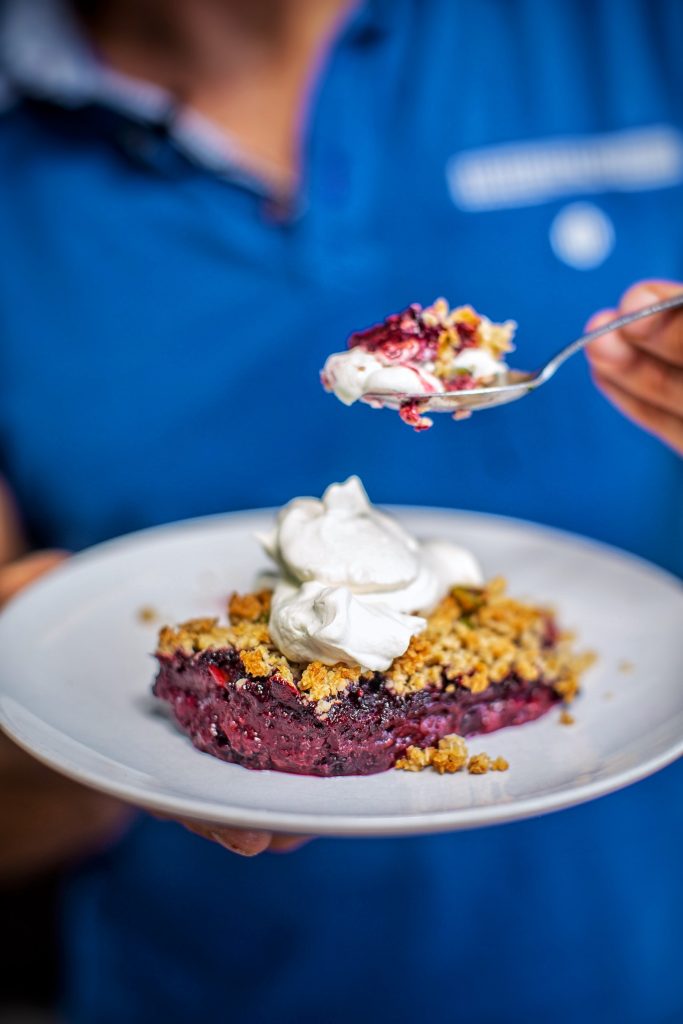 FAQ – frequently asked questions
Can I replace the apples and berries if I don't like them?
Absolutely!! The fruit is interchangeable to what you have and what is ripe and ready to use!! We have often made this with pears and blackberries, plums, nectarines and even some citrus!
Can I use golden syrup or agave syrup instead of maple syrup?
Absolutely! You could use whatever liquid sweetener you have and the same goes for the topping ingredients, they really are interchangeable with what you have.
Can i freeze this dish?
Yes indeed it freezes really well and heats up great. We suggest freezing it in portions so you only have to reheat what you need so it avoids wastage. Alternatively freeze it as a whole crumble then simply thaw it before you want to use it and heat through before serving.
Can I make the crumble ahead of time?
You can make the crumble ahead of time, just don't bake it in the oven. Stew the fruit and put in the baking dish and top with the crumble and then once you are ready to eat it finish it off in the oven and possibly serve with some cold vegan vanilla ice cream!
Can I leave out the crannberries if I want?
Absolutely!! Simply replace them with any berry of choice!
How long does this dish last in the fridge?
It will last for at least 3 days in the fridge
Do I need to make this crumble low fodmap and gluten free?
NO! You absolutely do not!! We have so to make it easy for anyone with a sensitive gut.
Tips for making this crumble – low fodmap & gluten free
Clear a decent amount of counter space or clear your kitchen table and use this as your prep area.
Get all your ingredients ready to go first and do a double check that you are not missing anything
Prepare your fruit first ensuring to cut out the cores of the apples and any blemishes.
Ensure you have a lid for the pan/pot that you stew your fruit in.
Have your pie/crumble dish ready to go before you finish stewing your fruit.
You will need a decent mixing bowl to mix all your crumble toppings so best to have this ready before you start.
Tidy up as you go and clean up
Take your time and enjoy it, you are making a truly delightful dish!!
If you want to serve this crumble as part of a dessert spread, here are some fab desserts that go really well alongside it:
Other gut friendly low FODMAP recipes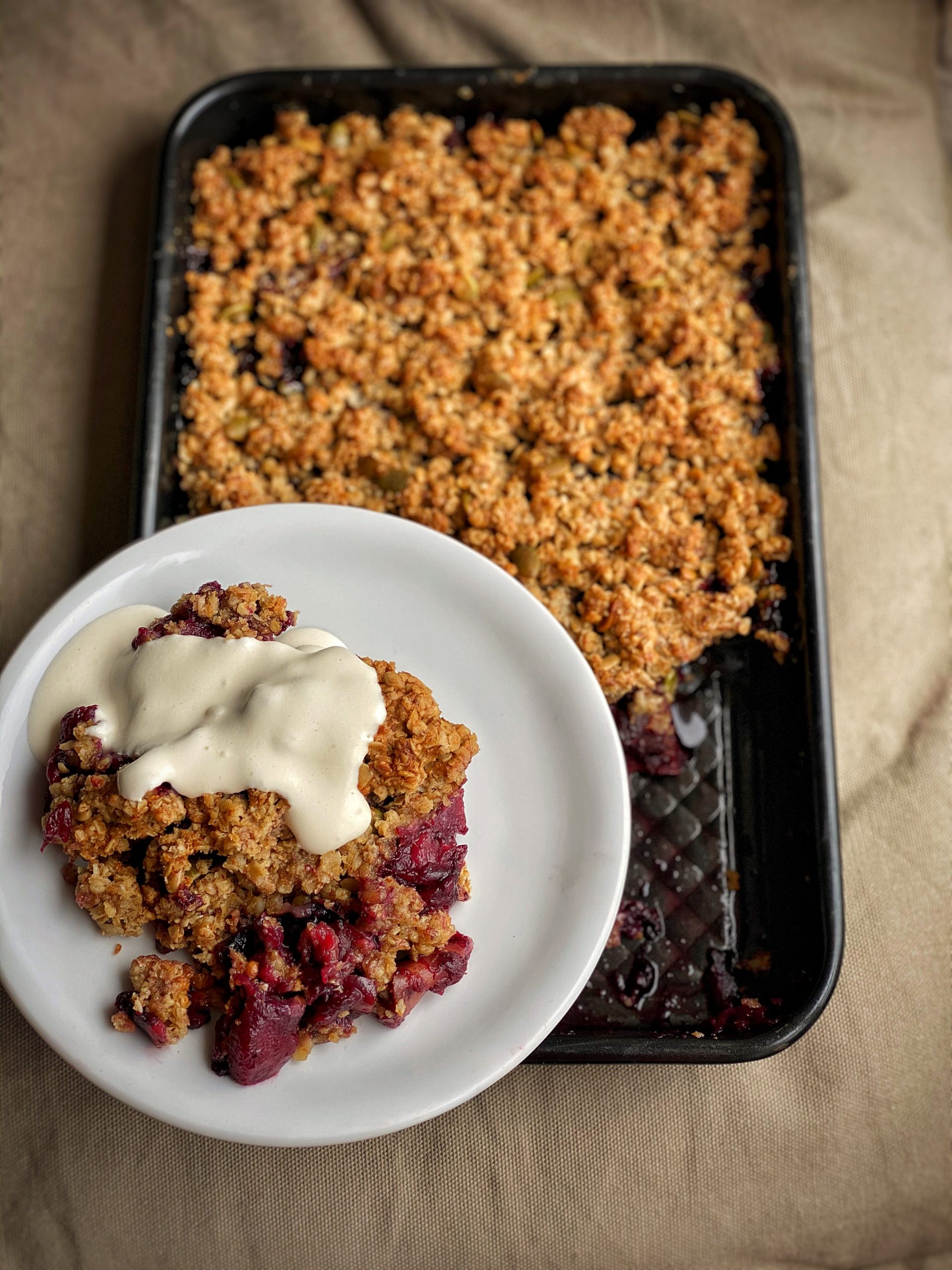 Berry and Apple Crumble – Low FODMAP & Gluten Free
---
---
Serves
8
Watch Video
Crumble:
150

g

gluten-free oats

use regular oats if you need to.

50

g

ground almond

3

tbsp

pumpkin seed

3

tbsp

sunflower seeds

75

ml

sunflower oil

(5 tbsp) can use coconut oil instead

90

ml

maple syrup
Cut the apple into bite-sized pieces and put it into a pot, together with the berries and the other stewed fruit ingredients.

Bring the fruit mixture to the boil and then reduce to a simmer. Stirring occasionally, stew the fruit for about 20 mins or until all the fruit has properly broken down.

In the meantime, preheat the oven at 170℃.

If using coconut oil for the crumble, melt it first by heating up in a pan. Thoroughly mix all the ingredients for the crumble together in a bowl including the oil.

Once the fruit is stewed down, add it to your crumble dish and spread it out evenly (we used a 30cm ceramic dish).

Spread the crumble top evenly over the fruit and put in the preheated oven for about 25 mins at 170℃ or until the top of the crumble starts to go golden.

Enjoy!
Calories:
349
kcal
Carbohydrates:
45
g
Protein:
6
g
Fat:
18
g
Saturated Fat:
2
g
Polyunsaturated Fat:
2
g
Monounsaturated Fat:
9
g
Trans Fat:
1
g
Sodium:
4
mg
Potassium:
309
mg
Fiber:
6
g
Sugar:
23
g
Vitamin A:
43
IU
Vitamin C:
41
mg
Calcium:
70
mg
Iron:
2
mg
P r i n t R e c i p e
Recent Recipes & Podcasts