Best probiotics for gut health – homemade
Here is a brilliant way to make your own best probiotics for gut health at home by fermenting some fruit and veg to preserve them but also develop lots of beneficial bacteria
Prep time : 10 mins | Ferment time: 3-10 days |
| Makes: 20 Servings | Difficulty: Medium
Probiotics are living microorganisms that are good for you, especially your digestive system. Here we make our own best probiotics for gut health, by using a method known as lactic acid fermentation or lacto fermentation to naturally ferment vegetables. The beauty of this method is that it's so easy to apply and it works with virtually all vegetables and fruit. This fermentation process traditionally was used to preserve veg throughout the year but through the fermentation process it also develops more bacteria which are great probiotics and also prebiotics due to the high fibre content in the veg themselves.
We use a 2% salt solution method which makes it super easy to adapt to whatever volume of veg or even fruit you are fermenting. This basic method is applied when fermenting any fruit or veg. You can add some flavour agents such as garlic, ginger, turmeric, chilli and herbs or spices to give each ferment more personality. 
The 2 secret ingredients to dictate the speed and the acidity of the ferment are TIME and TEMPERATURE. As a rule of thumb the longer you ferment anything the more acidic it will become and the more broken down the fruit or veg will become. The warmer the room the quicker the fermentation process. As in when fermenting in a cold room it will take much longer for them to become acidic than when compared to a warm room.
The basic method as mentioned which works for virtually all fruit and veg is to prepare your fruit and veg into which ever size you want it to be, as in grate your carrots or finely slice the cabbage etc. Remember the smaller you slice your veg and fruit the quicker it will ferment. Weigh your veg and then multiply this weight by 2% to find out the weight of salt that is required. The simply add the prepared veg to the jar you are going to use for fermentation, add the salt and cover with water so that the veg is submerged under water. Close the lid lightly so that it stops bacteria entering but that there is enough room for gases to escape. Leave to ferment for a week and taste it each day until it reaches your desired level of acidity and the veg is soft enough. Then store in the fridge to slow down the fermentation process and enjoy!
FAQ – frequently asked questions
Can I ferment fruit
Yes you can, it results in a salty acidic slightly sweet fruit, if the fruit is soft generally it will go to mush so try to choose firm fruits such as plum or apples work well.
Do it all have to be submerged underwater?
Yes it does as otherwise there is a risk that mould will form. Often a weight or stopped is used to keep the veg down underneath the water, you can use a clean stone to do this.
What happens if it develops mould?
Generally the mould only develops in the part that is above the water level, just remove this and discard and all under the water should be fine, but always check.
How long does it take to be ready?
As mentioned above time and temperature dictate the amount of time required. The warmer the room the quicker the fermentation and the longer you leave it to ferment the more acidic and broken down the veg or fruit will be. Just taste a little to get an idea if it is ready and over time you will leave what is the best time frame to reach your desired results.
Can i over ferment my veg?
You can indeed, when a veg is over fermented it will lose its colour and break down in mush and be super acidic.
How do I store my fermented veg?
Once you are happy that there are fermented enough just put in a sealed jar and store in the fridge, they will continue to ferment but much slower.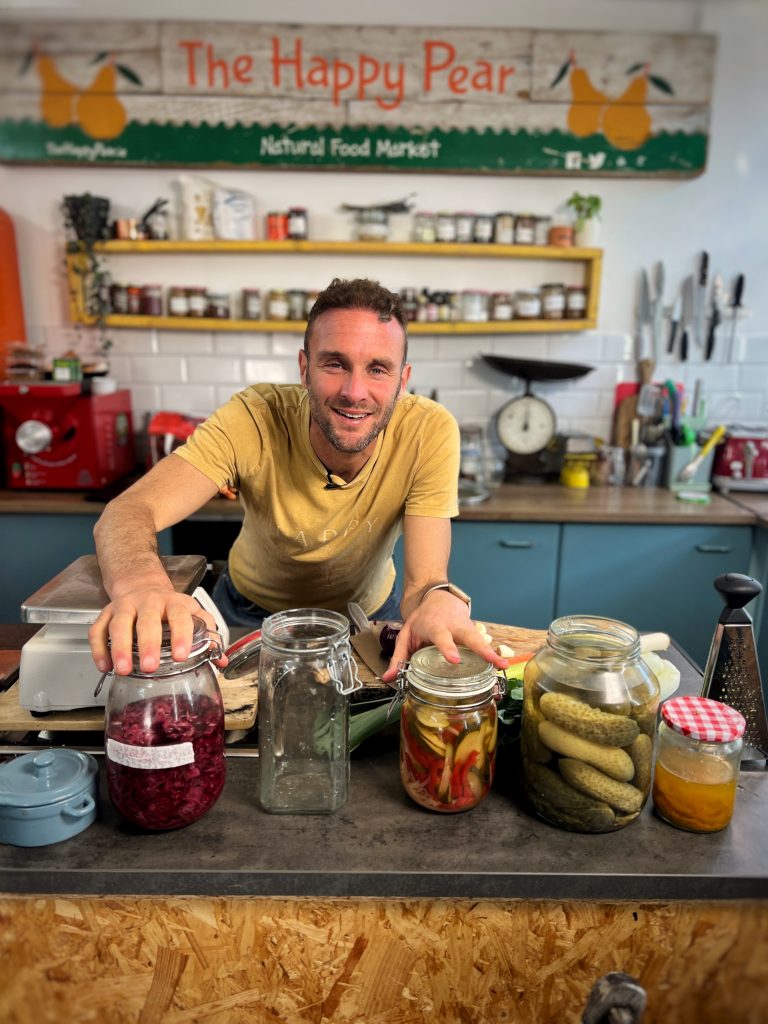 Other recipes you may like, with beneficial prebiotics for gut health
Some other digestion friendly recipes
our easy to make Spaghetti Bolognese is delicious and easy on your digestions
This vegan korma is again light on your digestions as well as a total crowd pleaser
Homemade Probiotics – how to ferment all vegetables – the easy way
---
Here is a wonderful easy method to ferment you veg, here we have 450g of mixed veg but you can mix and match depending on what veg you have.
---
Serves
20
Watch Video
200

g

carrot

100

g

pak choi

20

g

ginger

2

cloves

of garlic

2

red onions
Firstly let's prepare our veg, finely slice the carrot and the pak choi, peel and finely slice the ginger. Leave the garlic whole.

Weigh the veg, which comes to approx 450g. Multiply the amount by .02 or 2%, which gives you 9g, which is the amount of salt required. Gather your 9g of salt.

Get a clean jar to ferment in with a matching lid.

Add the prepared veg along with the salt and cover with drinking water. Ensure all veg is submerged under the water. Ensure to date your ferment so you remember when it was started. Close the lid not too tight so that gases can escape but also tight enough to stop bacteria entering.

Leave to ferment on your kitchen counter outside of direct sunlight.

Taste every couple of days until it reaches your desired level of acidity and the veg is broken down enough. Enjoy!
P r i n t R e c i p e