Gut Health Recipes
Here is a collection of gut health recipes that will leave your gut feeling fantastic!! These are some of the most popular recipes from our Gut Health Revolution Course and all recipes have been checked by our dietician. All these recipes are low fodmap (low in fermentable carbohydrates) so are easy to digest while also being high in fibre and diversity of plant based foods. Please let us know which you enjoy most!
Tips to improve your gut health
Eat a diversity of plant based foods, findings from The American Gut project [4] found that by eating at least 30 different plant based foods a week it greatly improved the health of your microbiome by providing plenty of fibre.
Eat a high fibre diet. You only get fibre from plant based foods namely fruit, veg, beans, legumes, whole grains, nuts and seeds. By eating a diet based around whole plant foods you are feeding the healthier strains of microorganisms in your gut and therefore your immune system.
Sleep – Research [5] has shown that good sleep is associated with healthier microbiomes and healthier gut health. Sleep is imperative to all aspects of health and very much so for our gut health.
Exercise – Is not surprising to learn that regular exercise just like sleep is linked to a healthy microbiome [6]. Ensure to get your 150 minutes of active time a week which will benefit your microbiome and gut health.
Spend time in nature – Our gut is made of micro organisms and bacteria as is the natural world around us. By spending time in different eco systems and natural environments you are exposing yourself to a variety of different micro organisms which helps strengthen the diversity of your microbiome and therefore your gut health. [7]
Mushroom Curry
An easy to make and delicious curry with mushrooms, chickpeas, aubergine that is banging with flavour, gut friendly and low fodmap.
Total Time Needed: 20 Mins
Difficulty: Easy
Low FODMAP Muffins
Easy to make and even easier to eat! These are low in FODMAP and gut friendly so great for anyone with a sensitive gut. They go great as a snack or as breakfast and also happen to be quite high in protein as we use almond flour and are gluten free so they tick a lot of boxes!
Total Time Needed: 30 Mins
Difficulty: Easy
Spinach and Butterbean Curry
An easy to make and delicious curry that is low fodmap and gut friendly. This is one of Dave's favourite go to easy dinner recipes. It is packed with nutrition, fibre and butter beans!! It is one of our more popular recipes on our online Gut health revolution
Total Time Needed: 30 Mins
Difficulty: Easy
Apple Crumble Recipe
This dessert is honestly one of our favourites. It is hard to beat and it also happens to be low fodmap & gluten free and also gut friendly. It's easy to make, Dave's 8 year old daughter Issy can make this by herself!
Total Time Needed: 40 Mins
Difficulty: Easy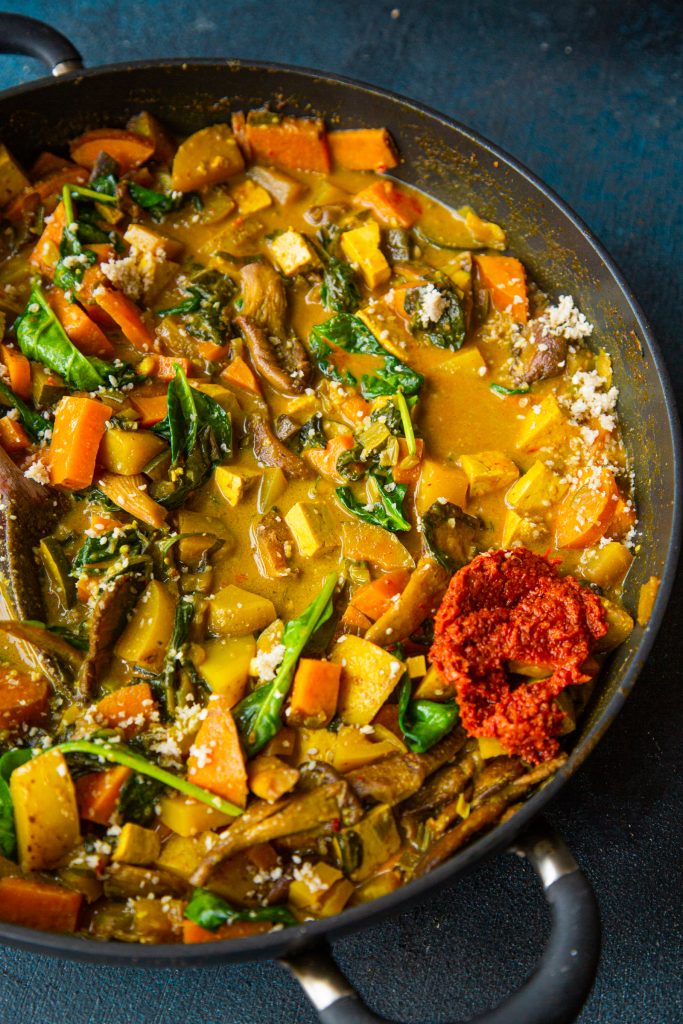 Low FODMAP Vietnamese Coconut and Tempeh Curry
This is a deliciously simple curry! Tempeh is a fermented soybean block. We know it's not a very appealing description, but when prepared right, it tastes like sausage or chorizo; meaty and substantial! This is a banging curry!
Total Time Needed: 20 Mins
Difficulty: Easy
Vegan Spaghetti Bolognese
This super tasty spaghetti bolognese is next level, it really is. We have made this at least 30 times and it never ceases to wow guests we have. It is a family favourite in our house with garlic bread and served with some nutritional yeast.
Total Time Needed: 20 Mins
Difficulty: Easy
Easy Veg Korma
A super tasty easy to make vegan korma recipe. This recipe is also gut friendly as it is low in fodmap's (which we explain more about below). We make a simple delicious sauce and cook potatoes, courgettes, cherry tomatoes and chickpeas through it. This dish goes great served with quinoa or brown rice.
Total Time Needed: 40 Mins
Difficulty: Easy
How to improve your gut health
Thousands of years ago, Hippocrates, the father of modern medicine said, "All disease begins in the gut". We prefer to say that 'all health starts in the gut too'. A whole food plant based diet is hugely effective at improving your digestion and gut health [1]. 70% of your immune system cells are based in your gut [2].
Your gut consists of about 2kg of microorganisms such as bacteria, archaea, yeasts etc these are known as your microbiome, the health of your microbiome is considered your gut health and is what directly influences your immune system cells. Eating high fibre foods is vitally important to encourage the healthy strains of bacteria and microorganisms, fibre is, in fact, a prebiotic to our microbiome, it is the food that our bacteria and microorganisms feed on and helps to encourage them to be healthy and flourish. As you probably know by now – whole plant foods are the best sources of high fibre foods [3] and therefore really encourage a healthy gut.