Sustainability at The Happy Pear
Eating more fruit & veg is one of the kindest things we can do for our planet and at The Happy Pear, we want to create a healthier and happier world. That's why we make delicious and healthy plant-based food that's better for you and better for nature. Here are some of the areas we are focused on in terms of sustainability.
Kinder Packaging for the Planet
We are far from perfect, but we are trying our best to be kinder to the planet.We do our best to put our products in the most sustainable and environmentally friendly packaging – striving to use compostable packaging as much as possible. We consistently review our packaging and continue to look for the most sustainable packaging solutions available while also ensuring the quality of the food inside isn't compromised.
We are investing in Organic & regenerative farming practices
We have started a regenerative organic Community Farm this year focused on growing organic fruit & veg for the wider Greystones area and emphasising on increasing the soil health & life, the surrounding biodiversity and reducing greenhouse gas emissions. We are creating an example of a small-scale farm that works in tandem with nature, sequesters carbon each year from the atmosphere, produces tons of delicious organic food for the local community and encourages the creation of other such farms across Ireland and beyond through education and living example. We see this as one solution we can make to help heal and mend our broken food system.
Furthermore, we produce our own sprouts organically in our temperature controlled indoor sprout farm in Kilcoole which produces high quality Irish superfoods year-round using a fraction of the land and water required to produce other types of food.
Reusable first
In the first instance, we encourage our customers to use reusable cups by offering 20 cents off our hot drinks if they do use a reusable cup. We also sell reusable Keep Cups & insulated drink flasks in our stores.
We incentivise customers to bring their own reusable bags and now charge them 15c if they require a branded paper bag. Our intention here is to encourage the necessary shift in consumer behaviour towards reusable.
Later this year, we will move to more solid reusable cups only and stop offering single use disposable take away cups, whereby you pay a deposit for the takeaway cup and when you bring it back you get that money back.
Food Waste
We are also working hard to reduce surplus food and food waste.
We focus on creating the tastiest products, so you want to buy and enjoy them and hence, less waste is created in the process.
We actively curb food waste by using as much 'unsellable' fruit and veg from our stores in our kitchens, and our cafes donate any surplus food to local charities while our food production facility donates any excess stock through the food redistribution charity, FoodCloud.
Over this coming year, we will be using any remaining food waste to create beautiful compost for our regenerative organic farm, closing the loop of this system. Our generated food waste will provide the nourishment for the future food we are growing that will come back on the plates and produce we provide.
Furthermore, in due course, we will be looking to use our waste coffee grinds from our cafés as a substrate for growing our own mushrooms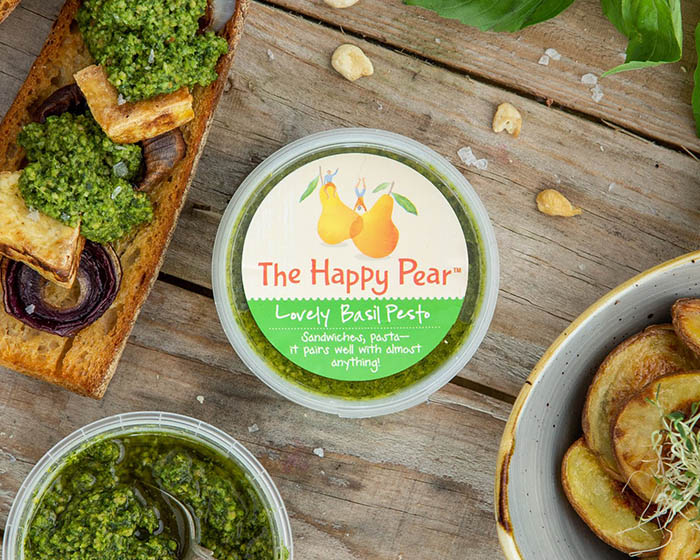 Renewable power first
We power all our retail and production sites with renewable energy through our electricity provider and what's more we have installed LED light fittings across all our sites helping to reduce greenhouse gas emissions.
Our vans run on compressed natural gas, helping to reduce our vehicle CO² emissions by over 20%.
Origin Green
As part of our Origin Green membership, we have set ourselves strong and stretching targets to grow and improve our sustainability practices year on year across our CO2 emissions, energy, waste, water, buying from suppliers with recognised environmental / sustainable certifications and by promoting healthy plant-based eating & living through our education courses and supporting our own team in terms of their health and wellbeing.
Community
At the heart of social sustainability is togetherness and the desire for each of us to belong.
Since its beginning, at the very heart of The Happy Pear is community. Standing up for inclusion, acceptance of all and the celebration of diversity, we strive to foster a strong and healthy community starting with Greystones but stretching far out and wide across Ireland and the world.
We believe nature holds the answers
We're passionate about creating great taste without compromising on health. That's why we don't take shortcuts, use chemical ingredients you don't understand or use unnatural substitutes for real flavour. We've learned that when you take the time to explore, nature provides all the ingredients you need.
Shifting habits through education
Through our work with leading healthcare professionals and specialists – gastroenterologists, cardiologists, GPs, dieticians, and performance psychologists – we are catapulting real world shifts towards healthier, more plant-based diets that are not only better for individuals but also for the planet. We have had over 60,000 people through our online courses.