Aubergine recipes
Here are 3 easy to make aubergine recipes that are easy to make and showcase how wonderful Aubergines can be. We make an easy to make aubergine curry, aubergine bacon sandwich and Baba Ganoush and fabulous roasted aubergine dip.
Prep time : 5 mins | Cook time : 30 mins | Total time 40 mins Makes: 10 Servings | Difficulty: Medium
Aubergine also known as egg plant got its name as one of the original varieties is small and white and literally looks like an egg growing on a plant hence the name eggplant. Aubergine is part of the nightshade family and many years ago it was believed to be poisonous, even the Italian word for Aubergine is Melanzana which directly translates as "apple of madness" as it was believe if you ate some aubergine you would go mad as its closely related to many poisonous nightshade plants. 
Botanically, Aubergine is actually a berry. Information would classify it as a fruit but wisdom would not include it in a fruit salad! Gastronomically it's classified as a vegetable. Another strange use of aubergine in 5th century China is that aubergines were used to dye teeth to give them a metallic look that made them gleam and shine!

In terms of cooking, aubergines are very divided, some people love them and others despise them, even a friend Niall refers to them as "devils food!". We believe that the reason many people hate aubergines is that they have not been cooked properly. A badly cooked aubergine is undercooked and rubbery or even chewy in mouthfeel, however when an aubergine is cooked properly it is soft, melts in your mouth and almost explodes with softness and flavour. An aubergine is quite spongy inside so its the perfect vessel for soaking up flavour. Some of our favourite ways to cook aubergine is to roast them with simply olive oil and salt or add a splash or olive oil and tarmari/ soy sauce or olive oil and a splash of lemon juice or apple cider vinegar. Below we cook aubergines 3 ways to showcase its versatility and how wonderful it can be. 
We charr it and fry it to make some aubergine bacon to show that it caramelises great and then add a smoky, sweet umami dressing to showcase how it functions as a wonderful carrier for flavour.
We roast it whole and scoop out the flesh to use to make one of our favourite dips Baba genoush.
We braise it in to show how it can be cooked quickly to make a beautiful aubergine and butterbean curry.
Other Aubergine recipes that you will love
Some serving suggestions for these Aubergine recipes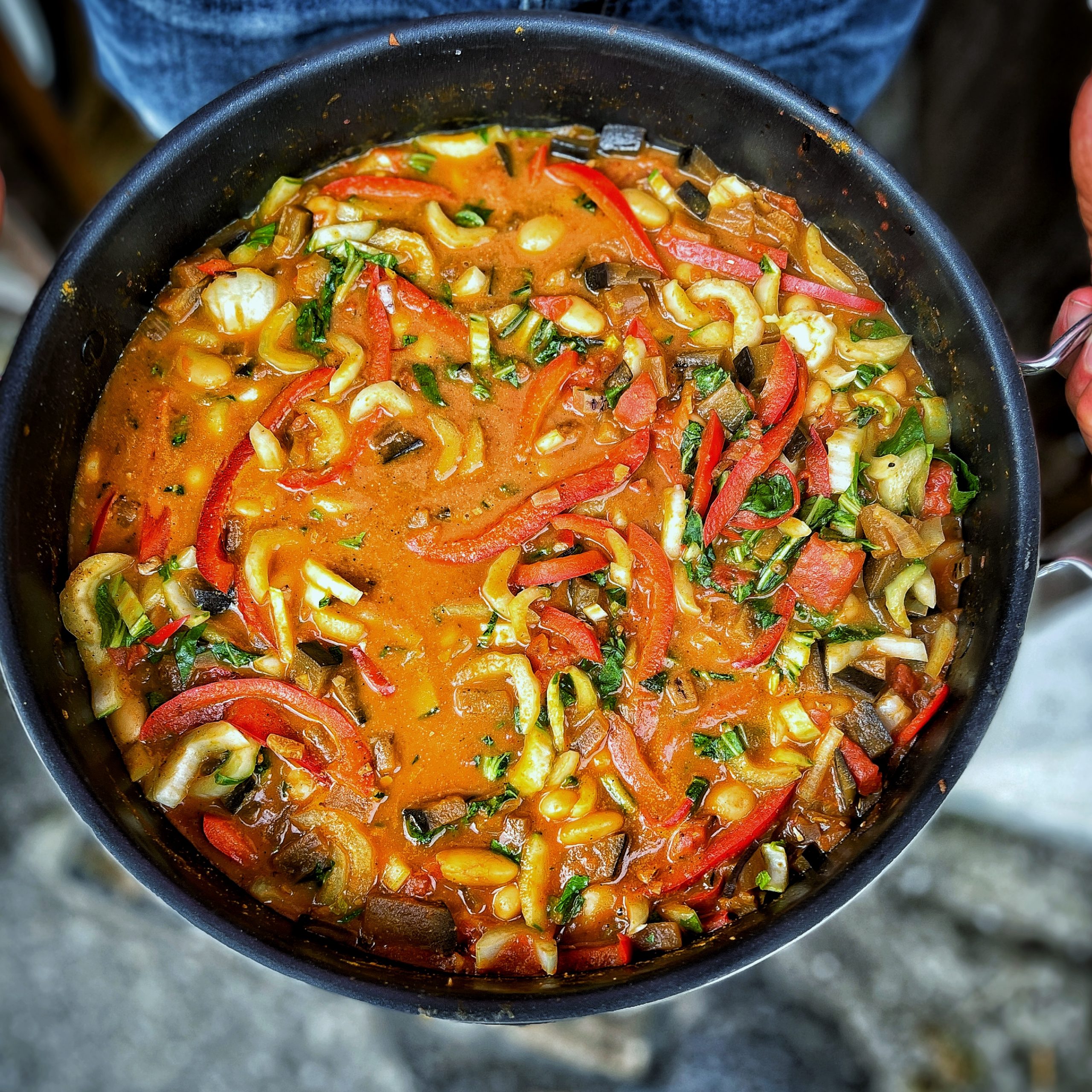 Braised Aubergine and butterbean curry
---
This is a delicious easy to make curry that literally takes 15 mins from start to finish, serve with your favourite grain of choice or naan or flatbread.
---
Serves
4
Watch Video
1

Aubergine

1

white onion

2

cloves

of garlic

½

thumb sized piece of ginger

1

red pepper

3

tbsp

of tamari/ soy sauce

3

tbsp

of water

1

tin of butter bean or bean of choice 400g

1

tin of chopped tomatoes 400g

1

tin of coconut milk 400g

2

tbsp

of curry powder

½

head of pak choi

½

lemon
Peel and finely chop the onion, garlic and ginger. Slice the aubergine into small 1cm cubes. Slice the red pepper into long thin strips. Finely slice the pak choi. Drain and rinse the beans

Heat a wide bottom non-stick pan on high heat, once hot add ½ tbsp of oil along with the onions and fry for 4 mins stirring regularly, until they start to go golden, then add the garlic and ginger and cook for another 1-2 mins. Next add the aubergine and cook for 2-3 mins stirring regularly. In a mug mix together the tamari and water. Add the peppers and the aubergine water mix to the pan and put a lid on to trap the steam to move from frying to briaising or steaming. Stir occasionally and if the aubergine starts to stick add another 2-3 tbsp of water and scrape any sticky veg from the pan until it incorporates into the sauce. Cook for approx 6-8 mins, at this point the aubergine should be soft and melt in your mouth (they should not be rubbery if they are, they need longer to cook!).

Next add the chopped tomatoes, coconut milk, beans and curry powder and cook for 3 mins mixing well, add the pak choi and juice of ½ the lemon.

Finally taste and adjust the seasoning to your liking by adding more salt, black pepper, lemon juice or chilli or aromatic spices. Serve with your favourite grain of choice and enjoy!
Calories:
842
kcal
Carbohydrates:
166
g
Protein:
52
g
Fat:
6
g
Saturated Fat:
1
g
Polyunsaturated Fat:
2
g
Monounsaturated Fat:
1
g
Sodium:
3754
mg
Potassium:
5161
mg
Fiber:
58
g
Sugar:
52
g
Vitamin A:
13368
IU
Vitamin C:
330
mg
Calcium:
570
mg
Iron:
22
mg
P r i n t R e c i p e