High protein bowl for weight loss – 5 mins
---
A super tasty meal that is really quick to whip up with lots of fresh flavours, that also happens to be low in fat and high in protein. This meal is oil free so lower in calories and ideal for weight loss. It is great for anyone who wants to lose weight or build muscle.
---
Serves
2
Watch Video
200

g

pack of pre-cooked quinoa

1

x 400g tin of black beans

8

Cherry tomatoes

1/2

ground coriander

Juice of 1/2 lime

2

fresh radishes

1/2

ripe avocado

1

x 200g block of firm tofu

2

Tbsp

Tamari/soy sauce

2

Tbsp

nutritional yeast

1

Tbsp

sesame seeds

1

Tbsp

of pumpkin seeds

Fresh herb of choice/micro greens to garnish
Put a non stick pan on a high heat.

Chop the block of tofu into small cubes.

Add the sliced tofu to the pan and cook for 4 minutes stirring regularly. When it starts to stick to the pan 'deglaze' the pan by adding a couple of tablespoons of water and incorporating the flavour. Steam should rise when you deglaze the pan which will help cook the tofu.

Drain and rinse the beans. Add them to a bowl along with the ground coriander and the juice of 1/2 lime. Slice the cherry tomatoes in two and add them to the beans and mix well.

Time to pimp out your bowls – presentation is important in this dish so take your time and do your best to make your bowls look pretty.

Divide out the pre-cooked quinoa between 2 wide bowls. Divide the bean mix between both bowls. Slice the radishes into thin circles and divide them between both bowls. Spoon out the avocado half onto a chopping board and slice into strips and divide between the 2 bowls.

Add the tamari, the nutritional yeast, sesame and pumpkin seeds to the cooking tofu. Stir to incorporate it all and cook for a further minute and then turn off.

Top each bowl with the tofu.

Garnish with some chopped herb of choice or micro greens.

Enjoy!
Calories:
1322
kcal
Carbohydrates:
162
g
Protein:
77
g
Fat:
44
g
Saturated Fat:
6
g
Polyunsaturated Fat:
17
g
Monounsaturated Fat:
18
g
Trans Fat:
1
g
Sodium:
2301
mg
Potassium:
3042
mg
Fiber:
28
g
Sugar:
9
g
Vitamin A:
843
IU
Vitamin C:
43
mg
Calcium:
339
mg
Iron:
19
mg
P r i n t R e c i p e
High protein bowl for weight loss – 5 mins
This high protein bowl for weight loss only takes 5 mins to make and is low in fat – its perfect for anyone who wants to stay in shape and eat a delicious meal. In the video 2 of us cooked in 5 mins so it might take you 10 mins.
Prep time : 5 mins | Cook time : 5 mins | Total time 5 mins Makes: 2 Servings | Difficulty: Easy
For this High protein bowl for weight loss only takes 5 mins to make. We use some pre cooked quinoa as it has a full spectrum of amino acids, the tofu and added pumpkin seeds brings more protein to this meal. If you cant find quinoa just replace with your favourite grain of choice.

if you do want to make it lower in fat just leave out the avocado. hope you enjoy! If you are looking for support to reach your happy shape check out of happy shape course with a weight loss doctor and a dietician link to learn more here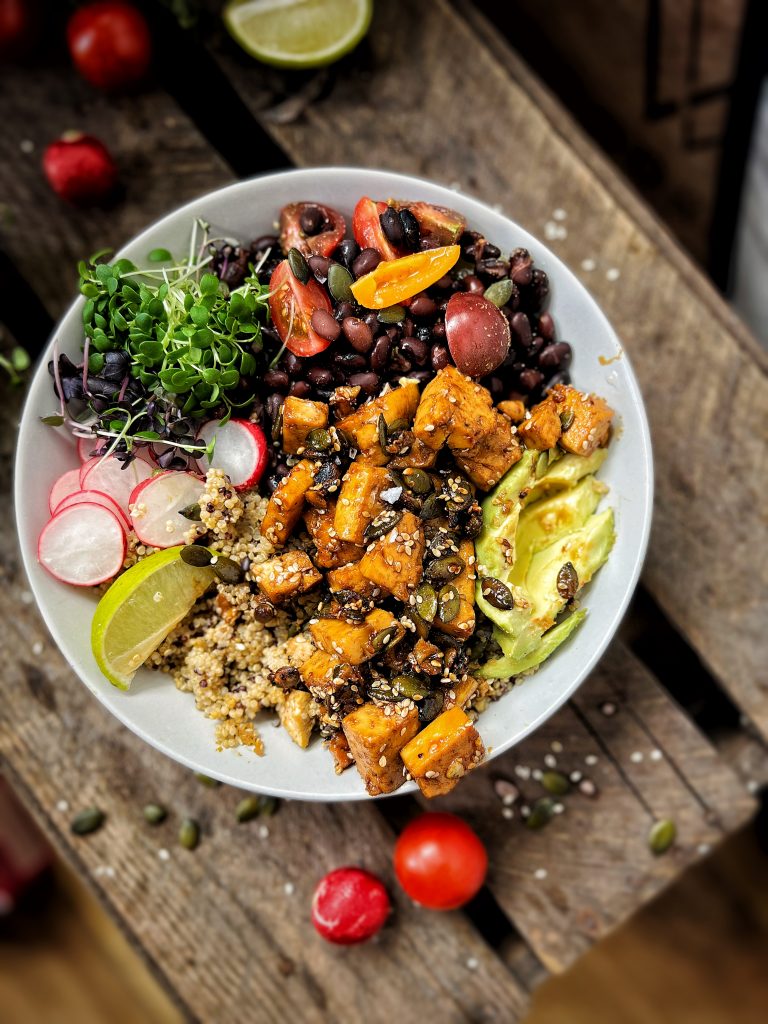 Here are some of our favourite treats to serve with this High protein bowl for weight loss
Recent Recipes & Podcasts