MENOPAUSE FRIENDLY RECIPES
menopause and perimenopause – Approximately 80% of what doctors and health professionals see in their clinics is related to lifestyle. When it comes to reducing the discomforts of menopause, there are changes you can make TODAY to make a difference. We've created a new course, HAPPY MENOPAUSE with the amazing Dr. Nitu Bajekal, Consultant Gynacologist who is full of amazing advice for women who are entering perimenopause or menopause. The course is also supported by Rohini Bajekal, Nutritionist who shares the information about what women should consume and what they should try and avoid, to reduce negative symptoms such as brain fog, hot flushes, sleep problems etc.
THE IMPORTANCE OF DIET…
A whole-food, plant-based diet means enjoying an abundance of colourful fruits and vegetables, legumes, whole grains, nuts, seeds, herbs and spices. These vibrant plant foods are full of hormone-regulating fibre, health promoting micronutrients, and antioxidants.
Centering your meals on plant foods offers both mental and physical benefits. When you focus on the healthy plant foods you're adding to your plant, you don't have to feel deprived. Focus on adding an abundance of colour to your plate and eat mindfully without the guilt.
Many experts believe that protein needs are higher as we age. Unfortunately, there's a misconception that you cannot get enough protein without animal products. We're here to dispel that myth. When eating a wide variety of protein-rich plant foods, such as legumes, you can meet all your protein requirements. This High Protein Bowl is a favourite of ours!
Replacing some grains in your diet with beans is one way to increase protein intake without increasing calories. Focusing on two to four servings of soy foods per day can be a great way to achieve higher protein intake during menopause. Plus, minimally processed soy products can be helpful in reducing the frequency and intensity of hot flushes. Win-win!
Things you should avoid…
Avoiding or minimising foods without fibre can be helpful in improving menopause symptoms. These ultra-processed foods contain excess refined oils and animal foods filled with saturated fats, which can actually make hot flushes worse!
Make water your drink of choice whenever possible. The chemical changes in your brain from alcohol can result in a loss of inhibition and may result in risk-taking behaviour or over indulgence. This can result in excess weight gain and worsening menopausal symptoms. Additionally, consumption of alcohol, especially beer, appears to be associated with an increased risk of developing fibroids.
Both alcohol and cigarette smoking are Class 1 carcinogens, which means they are known to cause cancer. In addition, there are a number of negative health outcomes, which only make existing menopausal symptoms worse. Cigarettes can impact your mood and sleep. Avoiding cigarette smoking can not only help alleviate menopausal symptoms, but it can also help in reducing your risk of cancer and heart disease.
Not a surprise, but caffeine can greatly disrupt our sleep. As we've learned, sleep is vital for our health through menopause and beyond. Additionally, caffeine can irritate your bladder and make hot flushes worse. While we're all for a brilliant cup of coffee, it's important to reduce our intake if we notice symptoms worsening. A cup of decaffeinated tea or sparkling water with fresh berries and mint is the perfect, refreshing swap..
While big changes don't always come easily, it's important to recognise your progress and set smart and measurable goals rather than get overwhelmed. Incorporate more healthy choices into your life and make smart swaps to gain momentum and move yourself forward.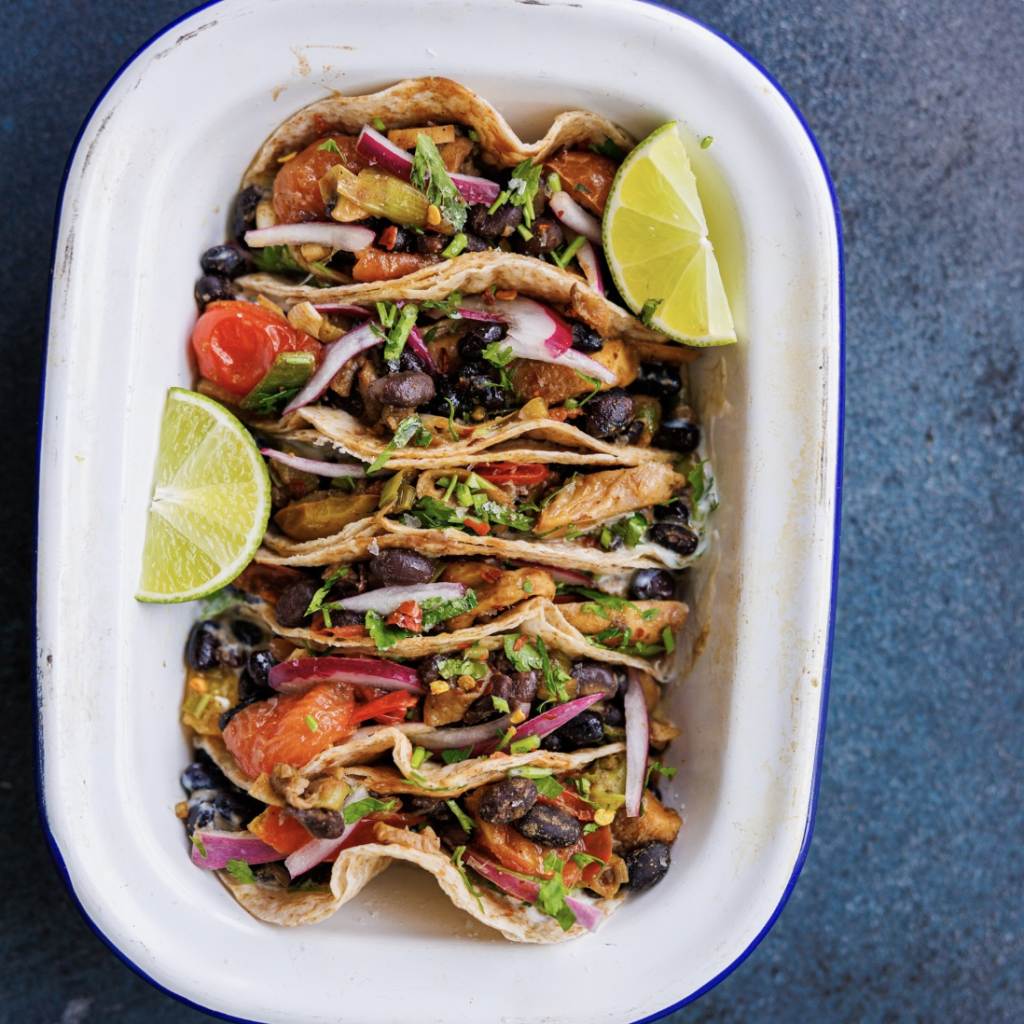 EASY VEGAN TACOS
Super tasty low fat, so perfect for those going through perimenopause and menopause. These are super easy vegan tacos that take 10 mins to make – packed with flavour… real crowd pleaser!
Total Time Needed: 10 Mins
Difficulty: Easy
MEXICAN STUFFED SWEET POTATO SKINS
These are high in nutrition while being low in calories and super tasty. We have added a cashew cream to make them even more indulgent!
Total Time Needed: 40 Mins
Difficulty: Easy
HIGH PROTEIN BOWL
A super tasty meal that is really quick to whip up with lots of fresh flavours, that also happens to be low in fat and high in protein. This meal is oil free so lower in calories and ideal for weight loss.
Total Time Needed: 5-10 Mins
Difficulty: Easy
RED LENTIL DAHL
We love Dahl and have been cooking it at home and in our cafe for years! This red lentil Dahl is of our oldest and favourite recipes. Vegan, gluten free and made with no oil, so perfect for those who are experiencing menopause or even perimenopause. It's so tasty and comforting. A great recipe for batch cooking too!
Total Time Needed: 40 Mins
Difficulty: Easy
EASY CHEESY ENCHILADAS
The root of the word enchiladas comes from the word enchilar which means to add chilli, here tortillas are filled with a delicious tomato and bean sauce, and baked in the oven and served with a rocking cashew cream – this is a family favourite in our house!
Total Time Needed: 15 Mins
Difficulty: Easy
OIL FREE THAI YELLOW CURRY
---
Give this simple, easy Thai curry recipe a go. Being oil free it's great for anyone going through menopause or perimenopause!
Total Time Needed: 15 Mins
Difficulty: Easy
OIL-FREE CREAMY MUSHROOM PASTA
Easy to make, really simple and super tasty, this creamy, fried mushrooms pasta is well worth making…AND it has no oil! Huge win!
Total Time Needed: 15 Mins
Difficulty: Easy
The Bottom Line
It is never too early and never too late to bring in dietary and lifestyle changes that will help you manage menopause symptoms.
A fibre rich plant-based diet combined with exercise, good sleep hygiene, mindfulness and stress management can go a long way in combating menopausal symptoms.
For more expert advice in easing menopause symptoms, be sure to check out our course, Happy Menopause! Access the course via our membership platform on the app. Start your seven-day free trial TODAY!
Menopause is turning the page to a new chapter – a chapter to grow in wisdom, experience, and to become a better version of yourself. This is your time to thrive.